"The Feral Child" Music Video | We're Only Alive for A Short Amount of Time
"The Feral Child" from WE'RE ONLY ALIVE A SHORT AMOUNT OF TIME Lyrics by David Cale, Music by David Cale and Matthew Dean Marsh, Directed by Robert Falls. Video Directed by Erik Scanlon.
Performed by David Cale (Vocals), Matthew Dean Marsh (Piano), David Belden (Viola), Michelle Campbell (Harp), Desiree Miller (Cello), Jered Montgomery (Trumpet), Anna Najoom (Clarinet)
"Yes I Believe" - Matthew Marsh
With Ariel Blackwood and Kuhoo Verma.
Chicago -June 2017 Performing as a student at the Johnny Mercer Songwriters Project.
LOST BOYS
Lost Boys has been a finalist at the Los Angeles Music Video Festival and semi-finalist at the Paris International and Portland Music Video Festivals.Watch here! :)
Assisting Preston Martin in casting the NYU Reality Show in Shanghai.
Reckoning
NYC Jan. 2017 A peak into the Reality Show's rehearsal process, directed by Preston Martin. "We will do it together."
Emergence Collective @ Rockwood. Sylver Wallace, Raina Sokolov-Gonzalez, & Kate Douglas
Fight For You - MDM feat. Kiah Victoria
April 2017 - Wellfleet Harbor Actor's Theater commission of the "Romeo and Juliet" I composed for Psittacus Theater Company.
June 2017 Rehearsing with David Cale.
May 2017 Music directing Fireflies by Dmitry Koltunov, directed by Shaun Peknic at MTF.
NYC Mar. 2017 Excited to join up with the band for the electric guitar virtuoso, philanthropist, tone poet, and advice columnist, Mrs. Smith.
Feb 2016 - BAM Music Directing Rimbaud in NY by Steve Cosson & the Civilians.
Oct. 2016 Flew to Paris to accompany Joseph Keckler at The Pompidou.
Sept. 2016 Scored a spot for GLAMOUR Magazine featuring Emily Ratajkowski!
Fall 2016 - Lincoln Center Education LCE has booked two more runs of Romeo and Juliet. It's been an honor to set this piece to music and work with Louis Butelli and Psittacus Theater Company again.
October 2016 - Joe's Pub - NYC Music Directing Ato Blankson-Wood's debut show at Joe's Pub.
ept. 2016 Feminist Power Awards NYC Honoring Liz Swados tonight by performing two of her pieces at the Feminist Power Awards with Barrie McLain, Hannah Whitney, Rachel Pegram, and Emily Mattheson.
August 2016 The NYU cast takes the stage of Madison Square Garden yet again to tackle the pressing issues facing young people today. Directed by Preston Martin.
July 2016, NYC West Village Accompanied Erin Markey's "Humping a Gatorade Bottle" at the Duplex.
Jan 2017 Music directing a production of Anne Washburn's Mr. Burns. at University of South Carolina
July 2016 Double-Trouble. Back with THE Salty Brine, music directing his show, covering Modest Mouse's "Good News For People Who Love Bad News". Directed by Leslye Headlund.
JUNE 2016 Lost Boys Video Released Filming in the Philippines.
JUNE 2016 LOST BOYS VIDEO RELEASED Director Brian Crandall hard at work in South Korea.
June 2016 LOST BOYS VIDEO RELEASED Filming in northern France.
Jo Lampert covers James Blake
NYC May 2016 No greater honor than MDing for and backing up Jo Lampert. Here, she covers James Blake's "our love comes back", arranged and re-interpreted by Nick Blaemire at Ars Nova.
Recording keys with Angela Sclafani.
June 2016 Lucky stars, I got to music direct Jo Lampert's Cabaret at Ars Nova's ANTFest. Funny Valentine with Barrie McLain and Alon Bisk.
Summer 2016 Plastic Angel (Adam Cochran and Barrie McLain and I) released a 360 degree music video choreographed by Tony Bordonaro, pictured here.
May 2016, Lincoln Center Commissioned by Lincoln Center Education and Louis Butelli's Psittacus Company to set Shakespeare's Romeo and Juliet to music.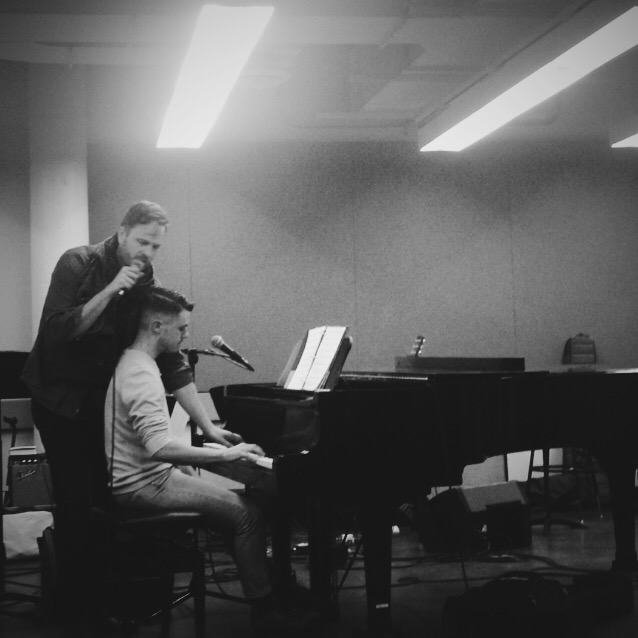 NYC Feb. 2016 Playing duets with Todd Almond.
Soho Nov. 2015 Guerilla photo shoot with designer Bunny Leopold.
March 2016 Got the opportunity to Music Direct The Civilians "Rimbaud in New York" at BAM. Directed by Steve Cosson. Pictured here: Adam Cochran, Tony Torn, Dito Van Reigersberg, and Jo Lampert
Los Angeles-October 2015 Backing up Chloe Temtchine at a Pulmonary Hypertension Association event. Check her out!
University of South Carolina-October 2015 Sometimes shows get rained out. Other times a 1 in 1,000 year flood happens and the whole week is thrown off. Regardless, I had a blast working with the wonderful cast and crew of The Three Penny Opera. Til next time!
Detroit-The Michigan Opera House-September 2015 Thank you, Rachel Sussman for inviting me to perform Detroit ReZoning and be a part of the artist panel discussion. Check out The Mitten Lab to see all the amazing work they are curating in Michigan! Thank you Julia Knowles and the beautiful string players from University of Michigan!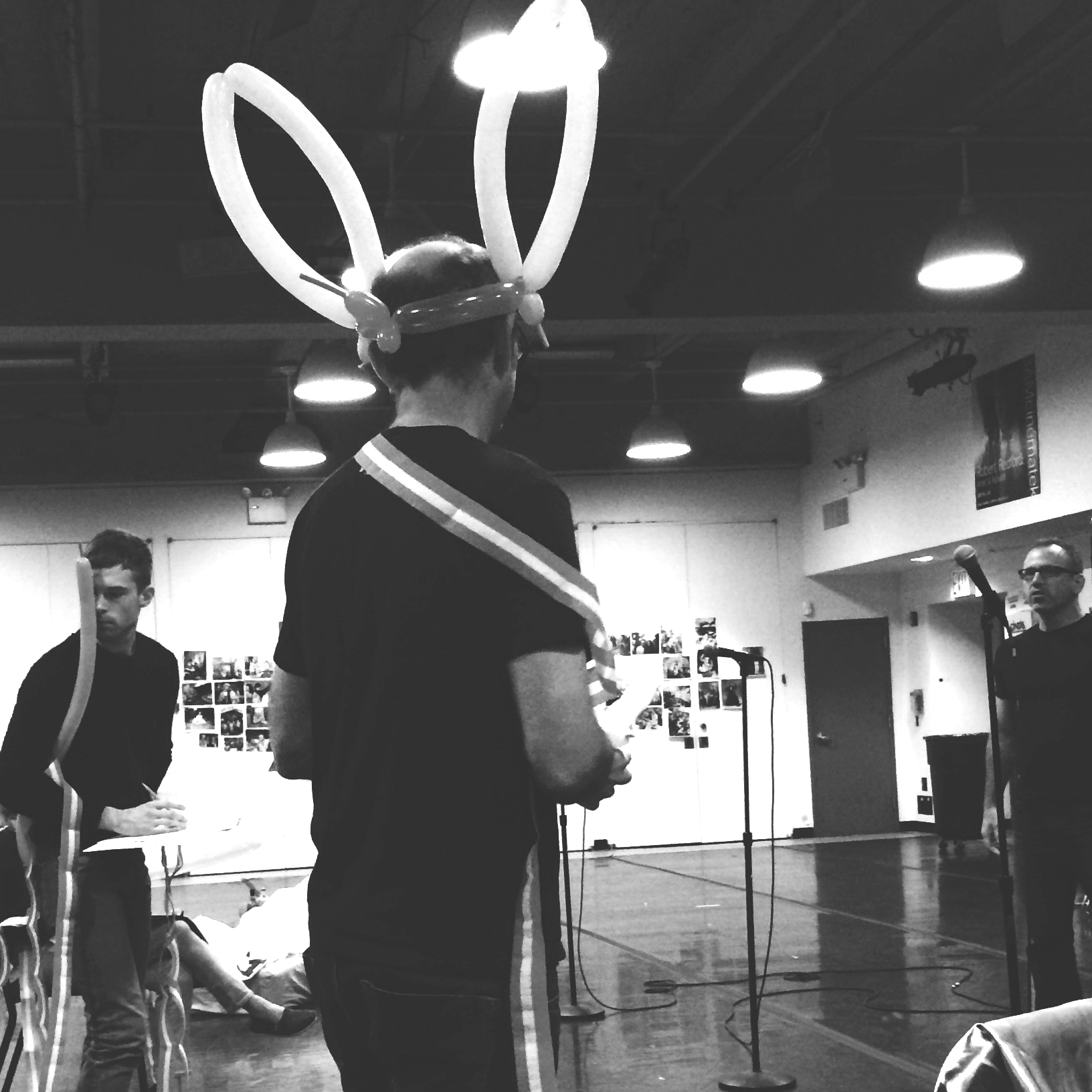 NYC-Brooklyn-Oct. 2015 Serious work with The Civilians at BAM.
NYC-Greenwich VIllage-August 2015 Shooting a music video with the cast of The Reality Show.
NYC-June 2015 Gay Marriage is legalized throughout the nation!
NYC-Greenwich Village-July 2015 Director Preston Martin at work with the cast of The Reality Show.
NYC-June 2015 Sherie shares her wisdom before our gig at The Pierre.
NYC-Joe's Pub-June 2015 So fun singing back-up for Julie Klausner. Check out her show, Difficult People, on Hulu!
NYC-East Village-May 2015 I feel like the luckiest pianist every time I get to accompany the sensational Salty Brine. Check out his weekly show at The Red Room every Wednesday night!
NYC-46th Street-April 2015 Today, I accidentally met Brandy and I sang a song for her that I wrote; and we hugged and she told me to keep going. Life changing is an understatement!
NYC-Lincoln Center-April 2015 A Tale Told by an Idiot, by Louis Butelli. So fun to compose and perform the music for this Macbeth adaptation.
NYC-TriBeCa-April 2015 Linda Mill's short documentary Better to Live made it into the TriBeCa film fest. I scored it!
NYC-Le Poisson Rouge-December 2014 Performing original music with Mike Bono, Dillon Treacy, Amanda Lo, Jessica McJunkins, Matt Rousseau, and Barrie McLain.
NYC-Crown Heights-December 2015 Impromptu session. Players that get it. Pictured: Amanda Lo, Matt Rousseau, Rhys Tivey, Colin Stokes, and Carou Johnson.
NYC-Brooklyn-December 2014 Impromtu live session of "Fight For You". There's no better feeling for me than hearing music I've written played by people I love. Check out Kiah Victoria and the huge group we assembled on Vimeo.
NYC-West Village-Winter 2014 Performing original music with vocalist Barrie Mclain. Check out Rebecca Quinn Robertson's monthly Siren Den.
NYC-August 2014 Prepping the cast of The Reality Show as we get ready to perform at Madison Square Garden.
France, Northern Shore-Spring 2014 Actor Jérémie Duvall in "Lost Boys" music video, a song I wrote. Shot by French native and Cannes Festival select Paul Marques Duarte.
NYC-Williamsburg-July 2014 Video experiments with film artist Ernest Martin, and performers David Merino and André Goddard.
Seoul, South Korea-Winter 2014 Director, Brian Crandall preps actor for "Lost Boys" music video shoot.
NYC-Sleep No More-Summer 2014 Beautiful dancers David and André get ready to back me up at The McKittrick Hotel.
NYC-East Village-October 2014 Always amazing assisting Samuel Draxler and NYPAC. Here at The Cock for a gala honoring Justin Vivian Bond.
NYC-The McKittrick Hotel-Winter 2013 The boys from Pig Pen Theater Co. cover my song, Detroit ReZoning at Kate Douglas's Imaginary Menagerie.
NYC-Long Island City-Bloody Good Record-Summer 2013 Demos and donuts. Somebody knows me well.
NYC-Bushwick-Winter 2013 Matthew Marsh Band in rehearsal. Winter 2013.
NYC-Bushwick-Spring 2013 Songs with friends.
NYC-Bushwick-Summer 2013 Preparing for video shoot with Matt Rousseau and vocalist Rachael Duddy.
NYC-Brooklyn-Summer 2013 I got the lucky chance to play Todd Almond's music set to Sarah Ruhl's Melancholy Play.
NYC-Joe's Pub-March 2013 "Detroit ReZoning" album release. Levon Henry on sax. Vocalists Nik Walker and Jessie Barr. Directed by Hunter Bird.
NYC-Lower East Side-May 2011 Detroit ReZoning, a musical in development, premiers.
NYC-Summer 2012 Kate Douglas and I begin collaborating!